To be able to connect to the Citycraft FTB Monster server, you need the FTB Launcher, which is another minecraft launcher like the technic launcher for Tekkit.
To install the Launcher, you need to:
1) Download the FTB Launcher Jar
HERE
. I recommend using the Jar launcher over the exe launcher, as it isn't always up to date, and some anti-viruses don't like it.
2) Create a folder called FTB (I put mine in %appdata%, where .minecraft is), and move the ftblauncher.jar file there.
3) Run the ftb launcher jar, and wait for the FTB Launcher to open.
4) Click the "select profile" drop down menu next to the login button in the bottom right corner, and select create profile. A box called "profile creator" should come up, which is where you put your minecraft login details. Once your login details are entered, click the "Done" button.
5) Run the FTB Monster pack, by selecting it in the modpack list (currently at the top), and clicking the login button, to download the modpack and start it up for the first time. Make sure your minecraft profile is selected or you'll get a login error, and that 1.1.0 is selected on the drop down box with "Recommended" on. 1.1.0 is currently the recommended build, so it can be left on recommended at the moment.
6) Optional: You can also install optifine into the pack easily, but you need a certain version of it, due to forge compatibility.
Go to the Optifine post on the Minecraft Forums, and download OptiFine HD D1 Ultra for Minecraft 1.6.4
To install it, you run the FTB Launcher, select FTB Monster, and click the "Edit Mod Pack" button. Select the mods tab, and add "Optifine_1.6.4_HD_U_D1.zip" to it, by clicking the "Add Mod" button and going to your downloads folder.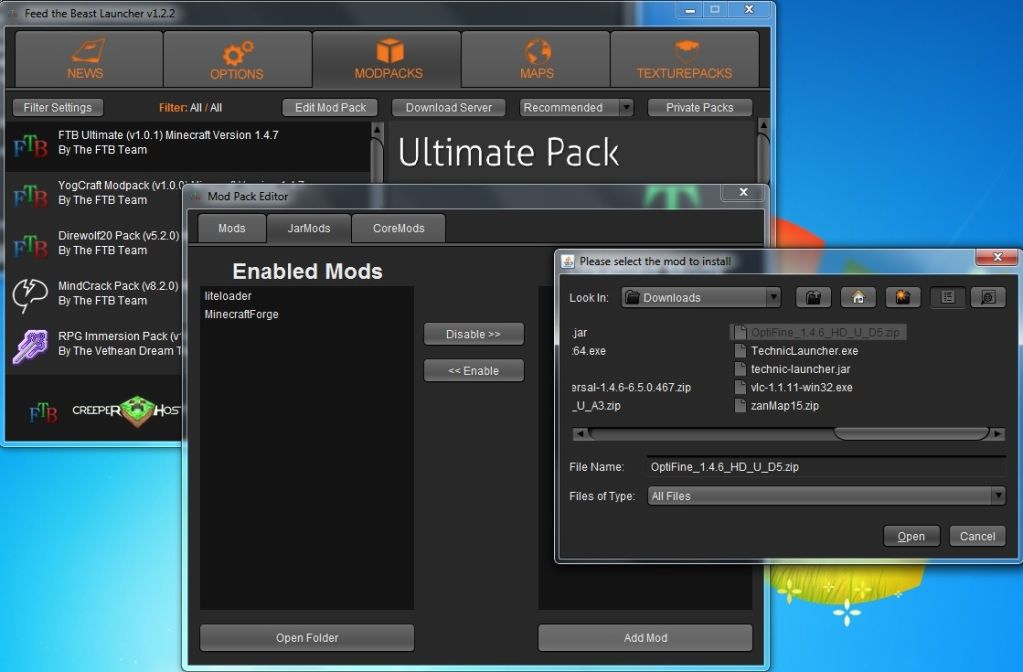 (Image is outdated, optifine no longer needs to go into the jarmods tab, the regular mods tab works)
Problems:
"When generating the world on the modpack, it just says "Converting World" and doesn't do anything"
This normally happens on Macs running Java 6. To resolve this problem, you start the FTB Launcher up, and select the Options tab at the top, and click the "Advanced Options" button, which causes a window to come up. In the "Advanced Java Parameters" box, enter:
Code: Select all

-Xms256m -XX:PermSize=128M -XX:MaxPermSize=256m
then you should be able to generate worlds, and go on the server. (ftb.citycraft.co.uk)